Never make a wrong turn again
Here's my new favorite website--at least for today.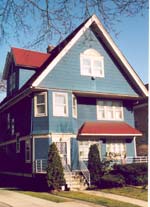 It's called
TurnHere.com
and the idea is simple and fantastic: short video travel guides of cities and neighborhoods made by the people that actually live there. It's informative and entertaining! I've wasted all afternoon! Hooray!
No film for my Fort Greene neighborhood yet, but surprisingly, Jess' Kensington 'hood is represented
here
. And so is
Red Hook
.