9.09 FBJ mp3
New
Friday Breakfast Jam
mp3. Half of it anyway.
Emiliana Torrini, Fisherman's Woman, Rough Trade
In addition to 101 other frustrations that come along with
community radio
-- poor equipment, a lot of people to please, no attention from the big labels -- you end up with a lot of low-tech volunteers at the station, such as myself, pushing buttons. The difference between me and them is that if something is working properly or if a piece of equipment is vastly beyond my grasp, I don't screw with it. Sigh. That cannot be said for everyone else though and in particular for the jackass who messed with the settings on the CD burner.
The result of said jackass' shenanigans: I was only able to record the second half of the program. It's too bad, too, because the first half was arguably the best radio ever broadcast. The second half, the one available for download below, not so much.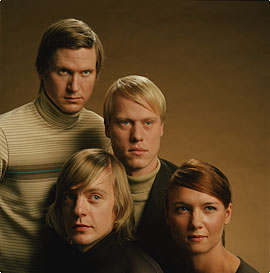 Acid House Kings, Sing Along with Acid House Kings, Labrador/twentyseven records, in stores in the U.S. this Tuesday
9.09 FBJ
91.4 MB (right click, "Save Target As")
Playlist from today's program available
here
.
Last week's show remains available for download
here
.
Only one more DMo FBJ to go!