9.02.05 FBJ MP3
This morning's show, available in two convenient, long-ass downloads! Each are about 92 MB and 1:19 in length of pure bliss. Lots of new and newish music on this morning's program. Also, I didn't mention it on-air, but potentially, this could be the second to last DMo Friday Breakfast Jam.
Update, 9.16.2005: These tracks have been removed to create space for more recent programs. If you absolutely need a copy of this show, contact DMo.
Track 1
Track 2
(right click, "Save Target As")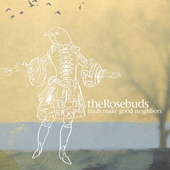 The Rosebuds, birds make good neighbors, Merge Records
I missed last Friday's show because of a last minute job interview in NY, hence no MP3 (the lovely Emily sat in for me). Also, the sound quality from the show before that blew goat chunks, so, I will be taking that one off. I think I will keep the August 19th program live for now. You can download that baby
here
.
DCFC, Plans, Atlantic
Playlist from this morning's show available
here
.