Sufjan Stevens @ Allen Room (Jazz at Lincoln Center)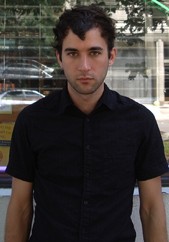 Saturday (1.14.2006), I witnessed something very special: a pretty remarkable hour of music from Sufjan Stevens and co. at the Allen Room.
The Allen Room is the disconnected, satellite venue for the Lincoln Center's Jazz at Lincoln Center. Located on the fifth floor of the Time Warner Center, it is a space worth celebrating in and of itself. It's comfortable, even vast for its 500-seat capacity, with incredible acoustics. What truly sets it apart is a fifty-or-so-foot window, immediately behind the stage, opening up on to Columbus Circle and Central Park.
I saw Sufjan Stevens and the Illinoisemakers in Salt Lake when they toured for
Illinois
. It was in a sweatbox of a brick club called the Lofi Cafe, full to fire capacity despite the incredible heat. The show was fun, full of high-energy performances and state cheers and left me satisfied. Saturday's performance was nothing like that.
I saw the earlier of the two shows on Saturday. Immediately from the initial strings of "Casmir Pulaski Day," the opening song, through the hour-long performance, it was clear that we as an audience were in for something incredible. Stevens appeared nervous, which was endearing. There were no pom-poms or uniforms with a large embroidered "I." Instead, just pure musicianship.
Amidst the rumors of Stevens abandoning his quest to document each of the 50 states through song; with all the hype of mainstream media promoting his 2005 release with overwhelming zeal; while he somehow became an American household name; he and an army of musicians (15 in all, I believe) played beautifully. Though the concert featured cuts from
Illinois
predominantly, favorites from
Seven Swans
and
Michigan
found their way into the set. Nearly every song was re-worked or expanded upon, offering an alternate composition complete with a sound far richer than the recorded versions. Sometimes, it was like hearing a favorite song for the first time. It was lovely.
Read more at
The Village Indian
and
The Times
.